SW Aviator Magazine is available in print free at FBOs and aviation-related businesses throughout the Southwest or by subscription.




The web's most comprehensive database of Southwest area aviation events.



Featured Site:

A continuosly changing collection of links to our favorite aviation related web sites.





The Quartz Mountain Lodge and Altus, Oklahoma
An Unexpected Find on the Western Prairie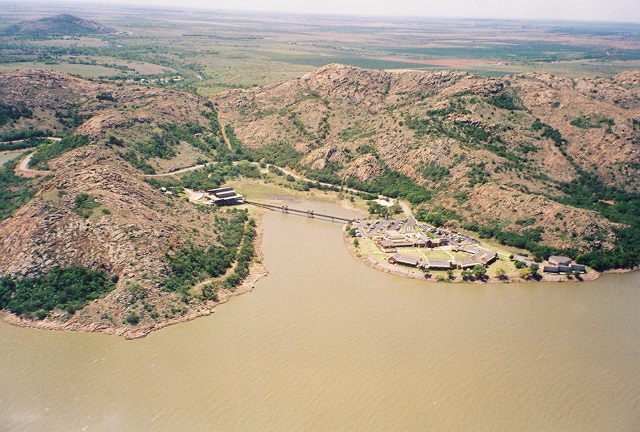 Story by Gerrit Paulsen
I have to admit, when I was first planning a trip through southwestern Oklahoma, a beautiful mountain hideaway resort destination was not what I expected to find. To be completely truthful, the thought of anything to do with mountains in Oklahoma did not occur to me, nor could I imagine the area as a resort vacation destination.
I know better now.
There are indeed mountains in southwest Oklahoma, and there is a gem hidden in their midst. The Quartz Mountain Resort Arts and Conference Center, and the nearby aviation-oriented town of Altus, Oklahoma are well worth an overnight stop on your next cross-country itinerary, or for an easy mini-vacation getaway.
The dictionary defines "mountain" as "a high and often rocky area of a land mass with steep or sloping sides." While the term "high" is arguable by those of us accustomed to flying the 14,000-foot peaks of the Rockies, Oklahoma's Wichita Mountains certainly otherwise fit the definition. Rising over 1000 feet above the surrounding prairie, these steep, boulder-strewn mountains are the eroded remains of ancient loftier peaks, and geologically are among the oldest mountains in the US. The striking Quartz Mountain Resort is nestled among the rugged, granite boulders at the foot of Quartz Mountain, on the shores of Lake Altus-Lugert.
Located just 18 miles north of the Altus/Quartz Mountain regional airport, the resort is easily accessible. Less than an hour's flight from Oklahoma City and less than 90 air minutes from Dallas/Ft Worth, this is the perfect location for a quick, quiet escape. The scenic 20-minute drive to the resort from the Altus airport begins with grand, wide-open vistas across fertile farmland, then the landscape rapidly changes to rolling hills. In the last few miles, the winding road approaching the resort hugs the mountainsides, framing stunning views of Lake Altus along the way.
Completed in 1999, the Quartz Mountain Lodge is built in a style that crosses Southwestern contemporary with traditional mountain chalet architecture. The high beamed, light-filled lobby is dominated by a cozy warm stone fireplace, flanked by windows overlooking the large circular courtyard (inspired by the council ring used by the Kiowa and other Plains tribes). Custom, hand painted art is everywhere, themed on the rich Native American and pioneer heritage of southwestern Oklahoma's past and present. The two-story guestroom wings are on the opposite side of the courtyard, offering excellent views of the mountains or Lake Altus. The 118 custom decorated deluxe rooms and two luxury suites are appointed with pine furniture and original artwork, and each have a private patio or balcony to enjoy the cool summer evening breeze and fine views. Room rates vary seasonally, on average ranging from $74 to $108 for a lake-view room. Call 877-999-5567 or visit quartzmountainresort.com for more information.
Quartz Mountain also has cabin accommodations for families or group events -- such as your local flying club's next weekend outing or safety seminar. There are eight two-bedroom cabins and one three-bedroom cabin, each with a fireplace, kitchenette, and a Murphy bed in the living area. For large groups on a budget, the Mountainview Bunkhouse accommodates up to 64 people and has two full-size kitchens, four restroom facilities, and a large common room.
Amenities at the resort include an indoor/outdoor swimming pool and whirlpool, a restaurant, gift shop, and art gallery. The attached 18,000 sq. ft. conference facility provides meeting and catering services for any sized gathering, and is a very popular location for corporate retreats and team building events.
The adjacent Quartz Mountain Resort Park offers many additional recreational diversions. An 18-hole golf course (71 Par) is located in the midst of rugged granite hills at the scenic tip of Lake Altus, and includes a putting green, driving range, pro shop, and equipment rentals (580-563-2520). The park also has a Nature Center, miles of scenic hiking and bike trails, pleasant beaches for swimming, miniature golf, and paddleboat rentals. Anglers will find trophy size bass inhabiting Lake Altus and, below the dam, fine trout fishing in the North Fork Red River.
Adjacent to the Quartz Mountain Lodge, accessible by a short footbridge spanning an arm of Lake Altus, is a magnificent 750-seat performance hall (modeled after Walk Festival Hall of the Grand Teton Music Festival). This dramatic location provides an inspiring setting for the programs of the Oklahoma Arts Institute, which include intensive hands-on classes in theatre, dance, music, visual arts, photography, and writing. The Oklahoma Arts Institute (405-319-9019) was created in 1976 as a private, non-profit corporation dedicated to providing educational programs of excellence for the state of Oklahoma. In 1991, the Institute was designated by the Legislature as "Oklahoma's Official School of the Arts," and has been hailed as a national model. A large portion of the 300-piece Quartz Mountain Art Collection, owned by the Oklahoma Arts Institute, is on permanent loan to the State of Oklahoma for exhibit in the Quartz Mountain Arts and Conference Center. Among the most prominent pieces of the Collection on display are sculptures by Allan Houser and Fritz Scholder, a series of eight murals by Mike Larsen, two Earth Totems by Don Nice, and a series of serigraphs by Dan Kiacz.
In the nearby city of Altus, you can learn about the rich history of southwestern Oklahoma by visiting the Museum of the Western Prairie. Designed in the form of a pioneer half dugout, the museum houses displays that explain the geologic history of the region, and the human stories of settlement by Native Americans, frontier soldiers, cowboys, and pioneers. Other interesting exhibits discuss the quest for land and water, farm mechanization, and the local effects of the Depression and the Dust Bowl. Outside on the museum grounds, you can get at true taste of pioneer life inside an authentic half dugout, view an operating windmill, and tour additional displays in the carriage barn, including a blacksmith shop and various agricultural implements. The museum is open Tuesday through Friday 9:00-5:00, and Saturday and Sunday 2:00-5:00 (no entry after 4:30). Call 580-482-1044 for more information.
Modern-day Altus is one of Oklahoma's fastest growing, most prosperous and progressive cities, with strong ties to aviation. For instance, Altus is home to the company headquarters of Aviation Training Consulting, LLC (ATC). ATC is a professional consulting/training development firm that specializes in pilot, crew, and maintenance training solutions for rotary-wing, fixed-wing, and tilt-rotor aircraft. Founded in 2001 by Altus native Robert Cox, ATC specializes in finding innovative solutions for training by leveraging existing and emerging technologies to maximize training value, while simultaneously reducing aviation training costs. They have rapidly become the "go-to" company for high profile clients, such as the United States Marine Corps, who want to transform their aviation training programs to meet the challenges of the future.
The city of Altus' strong ties to the aviation world are due in large part to its long association with Altus Air Force Base, located just east of town. Altus AFB is home to the 97th Air Mobility Wing, flying C-5 Galaxies, KC-135 Stratotankers, and the newest airlifter in the USAF inventory, the C-17 Globemaster III. The 97th Air Mobility Wing's primary mission is to operate the Air Force's only strategic airlift, aerial delivery, and air refueling training school. This means there is often intensive heavy jet traffic around the base. It's worth a drive along US Highway 62 east of town, which passes just south of the approach end of Altus AFB runway 35L, to watch the enormous, lumbering C-5s and comparatively nimble C-17s shoot touch 'n goes.
Altus is an ideal location for flight training, with an average of over 300 days of good flying weather each year, a generally flat landscape with few obstructions, and neighbors who don't just tolerate aircraft noise, but welcome it as vital to their economy and to our nation.
The Altus/Quartz Mountain Regional airport, located four miles northwest of Altus AFB, is home to the Luscombe Aircraft Corporation. Here, in their modern new 110,000 sq. ft. manufacturing facility, Luscombe is producing the model 11E "Personal Trainer." The 11E is based on Don Luscombe's pioneering all-metal four-place aircraft design, the 11A "Sedan." This classic design has been updated with the addition of a high-performance Continental IO 360-ES engine, a high-tech Garmin avionics package, and sleek styling. Learn more at luscombeaircraft.com or by calling 580-477-3355.
It is likely that you will see the new Luscombe 11E, as well as a steady stream of C-5s and C-17s passing overhead as you end the day relaxing on the scenic waterfront patio of the Quartz Mountain Resort's restaurant, the Sundance Cafe. Serving breakfast, lunch, and dinner, the Sundance Cafe is worth a visit even if you are not staying at the resort, just to enjoy the fine food and soak in the excellent views from either the indoor or outdoor seating areas. Be sure to call ahead, as the restaurant is sometime closed for private functions (580-563-2424). If the cafe is closed, or just for a change of pace, try one of the good restaurants in the tiny town of Blair, located about halfway between the Quartz Mountain Resort and Altus, or one of friendly family-run eateries in Altus. Visit the Altus Chamber of Commerce web site at altuschamber.com or call 580-482-0210 for more information.
Now that I have experienced the relaxing charm and scenic beauty of the Quartz Mountain Resort, and sampled the welcoming aviation-friendly town of Altus, I have a completely different perception of the western prairie. Southwestern Oklahoma is a surprising, worthwhile destination, and one that will stay on my travel itinerary.
Sidebar:
The Altus/Quartz Mountain Regional Airport
If you want to sound like a local when making radio calls in the Altus traffic pattern, pronounce Altus like you would altitude, not like alternate. The Altus/Quartz Mountain Regional airport (AXS) has a single north/south 5500-foot runway that was just resurfaced and is in great condition. Field elevation is 1433 feet. Unicom is monitored on 122.8. Keep an eye out for birds near the airport -- the area is popular with Canadian geese.
During the week, it's a good idea to talk to Altus approach on 125.1 to stay clear of the heavy airlifters training in the area. There are numerous low-level training routes west of the airport, so seeing a flight of four C-17s cruising in formation below you is not uncommon. The Altus AFB TRSA covers the eastern half of the Altus area, and is active Monday through Friday (excluding holidays).
While the flying weather in southwestern Oklahoma is generally good, the area can be prone to morning fog and stratus, particularly after a weather front has moved through. It is a safe bet that it will be windy for your arrival. The winds are generally well aligned with either runway 17 (on warm days) or 35 (on a cold day).
The city-run FBO is one of the finest around, providing prompt, friendly, helpful service. Overnight hangar fees are very reasonable ($10 singles, $15 twins), and a good investment given the occasional strong storms that roll through. Unfortunately, the Quartz Mountain Resort does not offer airport pickup. A rental car, or use of one of the courtesy cars, can be pre-arranged by calling the FBO (580-482-8833), Putnam Toyota (580-482-3814), or Enterprise (580-480-1625).
Click here to return to the beginning of this article.