SW Aviator Magazine is available in print free at FBOs and aviation-related businesses throughout the Southwest or by subscription.




The web's most comprehensive database of Southwest area aviation events.



Featured Site:

A continuosly changing collection of links to our favorite aviation related web sites.





The Lancair Columbia 400

By Gina Lauchner
Photos by Don Mickey

If you want to rise above an upscale city like Scottsdale, Arizona, you want to do it in style. The brand new turbocharged Lancair Columbia 400 has reached speeds over 250 knots, making it not only the sleekest, but the fastest, certified piston-powered aircraft available, anywhere. Lancair Certified Southwest (LCSW) is the aircraft dealership proud to be established in Scottsdale, one of the most flourishing cities in the United States.

Scottsdale is a premiere destination in Arizona for business and recreation, out-visited only by The Grand Canyon and Sedona. Geared to the lavish lifestyle, most of Scottsdale's 400 restaurants and over 2,500 retail shops, boutiques, galleries, and golf courses are easily accessible from the Scottsdale Municipal Airport (SDL).

The Scottsdale Municipal Airport is a luxury on its own, as lives up to its reputation of excellence. With nearly 195,000 operations in 2003 — with a high percentage of private jet traffic — Scottsdale Airport is one of the busiest single runway facilities in the nation.

The airport and its surrounding Commerce Airpark provide a major economic asset for the City of Scottsdale. The Airpark is expected to surpass the Phoenix Sky Harbor Airport region as the second largest employment center in the next five years.

This is no surprise to businessman and Arizona native, J.B. Lauchner, owner of Lancair Certified Southwest. He moved LCSW to the Scottsdale Airpark from San Diego when he purchased it in 2001. The acquisition happened naturally, as Lauchner saw an opportunity to combine his love of aviation with his experience and skills as a prominent business owner.
"I went out to buy an airplane, and came home with the dealership," he laughs.


"After much research, I knew I had to have a Lancair, but I did not want to be put on an 18-month waiting list," he said. Instead, he negotiated a deal for an earlier position. Lauchner immediately started accumulating positions so that planes would be more readily available to his customers, and as an investment opportunity. At the time, The Lancair Company offered the Columbia 300 and 400. The Columbia 350, with its glass-cockpit was worked in afterwards.

On October 2, LCSW had a chance to show off not just one, but three, Columbia 400s during their Open House. The collection of Columbia's — three 400s and one 350 — looked very sleek inside the sparkling Scottsdale Air Center. As the airport's newest FBO, The Air Center is a full-service FBO, with a conference room, big screen television, shower and kitchen facilities, charter, concierge, and catering services. The event was a success, according to LCSW General Manager, John Cooke.

There was a steady flow of people, and about a dozen demo rides scheduled. Just as important, Cooke said, was the chance to notify over 15,000 pilots where our dealership is, and that we are selling the worlds fastest single engine piston aircraft on the market.

With 3,500 total hours, Cooke is more than qualified to endorse what he calls the "coolest and the fastest" of all airplanes. He says that speed and altitude performance and the ability to cruise at high altitudes are the major factors in selecting the Columbia 400. "Our typical buyer is a business person who requires a dependable, safe, and fast aircraft. Buyers tend to want a plane for business trips, as well as for recreation, and they fly about 200 to 300 hours per year."

Terry Boom, Chief Flight Instructor at LCSW, knows the value of the Columbia 400. "A turbocharged engine is an asset to a pilot, especially in Arizona in density altitude situations, and especially during the summer months. We live in a very mountainous part of the country and the need to fly is always present. Many flights require us to fly over 12,500 feet… This is where the 400 does its best work," he said.

Lauchner hired Boom after the CFI gave Lauchner's son, Jason, flight lessons three years ago. Jason also works at LCSW, and loves being able to fly the Lancair planes. "I have never been able to find a negative quality about the Lancair, and that is amazing. We have all flown them enough to find something if it was there…" he said.

He continues, "The 400 is great for taking off out of high places where a normal engine would produce much less horsepower on takeoff.

I like Lancair airplanes in crosswinds, because the airplane (even from the side) is so aerodynamic, it is unaffected by the winds. It is also predictable, as it always lands well in different situations. Since the Columbia 400 has a higher wing loading — the weight per square foot that the wing supports—it is faster, smoother, and better in turbulence. I love the speeds of the Lancair on a fuel burn, and the amount of fuel that it holds is amazing. It is the best looking airplane I have ever seen."

Lauchner, who runs four different companies based in three different states from his two Scottsdale offices, constantly seeks innovative ways to improve.

He makes things happen. For instance, he tested an "Executive Pilot Program" after his brother volunteered to be the guinea pig. The idea was to take someone with virtually no aviation experience, and hold their hand through the entire process from start to finish. The "entire process" consists of choosing and buying an airplane — including things like insurance, financing, and taxes — all the way through to ground and flight school, with the ultimate goal of receiving a private pilot's license. The guidance would not necessarily end there. "For example," he said, "we've had pilots, in their excitement of buying a new plane, forget they don't have any place to keep it," said Lauchner. At lancairsw.com, readers followed along the journey of Denny—a brand new Columbia 300 owner, step-by-step, as he goes for his private pilot's license. Lauchner believes the many benefits of the Executive Pilot Program versus a regular flight school include:

• Not having to share your plane with countless other students and instructors.

• Always using the same airplane.

• Using a new plane, with the best equipment and modern avionics.

• Learning to fly in the very plane you will fly in once you get your license.

A project currently in the works at LCSW is to enhance customer service. "We have recently doubled our storage space at the Scottsdale location, for starters," Lauchner said. In addition, the Flight Operations team is setting up a complete training facility with video capabilities and computers so that Boom has all the resources to provide the best instruction possible.

Lauchner also plans to accommodate not only customers in his territory — which includes Arizona, New Mexico, and southern California — but Lancair pilots all over.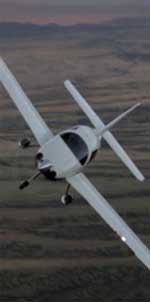 Lancair pilots and future Lancair customers are welcome to visit LCSW. Serious callers can schedule a demo flight, and make a vacation out of the trip to Scottsdale. Brian Hansen, Reservations Manager at Scottsdale Luxury Suites is offering special rates right now at some of the very best resorts. "If you can confirm a reservation within the next 2 days, we will offer a significant discount off of the regular rate to anyone considering a stay in beautiful Arizona," he said. Call 888-990-1326 or 480-419-6975, or go to luxurysuites.com.

Scottsdale provides some of the country's best year-around flying conditions, with an average of 360 VFR days a year. In Scottsdale, it rains less than eight inches per year, and the average median temperature is 70 degrees.

As Scottsdale, Arizona continues to flourish, the emphasis remains on quality rather than quantity. This upscale city is the perfect place for such a classy aircraft dealership to call home. The Lancair Columbia 400, with record-breaking speeds of up to 225 knots, easily rises above it all.

To learn more about the Lancair Columbia 400, contact Lancair Certified Southwest at 888-LANCAIR, or visit lancairsw.com.



ENGINE , PROPELLER AND AIRFRAME DATA
Engine - TCM TSIO-550, 310 hp
Propeller - Hartzell 3 Blade
Time Between Overhauls - 2000 hrs.
Length - 25.2 ft.
Height - 9 ft.
Wingspan - 36 ft.
Wing Area - 141.2 sq. ft.
Wing Aspect Ratio - 9.2
Wing Loading - 24 lbs./sq. ft.
Power Loading - 10.97 lbs./hp
Maximum Fuel (US Gallons) - 98 Usable

WEIGHT DATA
Takeoff Weight (Maximum) - 3600 lbs.
Ramp Weight (Maximum) - 3612 lbs.
Empty Weight (Approximate) - 2350 lbs.
Useful Load (Approximate) - 1262 lbs.
Landing Weight (Maximum) - 3400 lbs.
Baggage Weight (Maximum) - 120 lbs.

SPEED DATA
Max. Operating Maneuvering Speed (3600 lbs. gw) - 148 KIAS
Max. Flap Extended Speed (Full Flaps) - 119 KIAS
Max. Takeoff Flap Extended Speed (Takeoff Flaps) - 129 KIAS
Max. Structural Cruising Speed - 179 KIAS
Never Exceed Speed - 235 KIAS
Stall Speed in the Landing Config. - 60 KIAS
Stall Speed (Takeoff Flaps) - 65 KIAS
Stall Speed (No Flaps) - 71 KIAS

CRUISE DATA
Maximum Cruise Speed (18,000 ft. DA) - 230 KTAS (265 mph)

PERFORMANCE DATA
Takeoff Distance (Sea Level – Standard Temp.)
Ground Run - 750 ft.
Over 50 ft. Obstacle - 1290 ft. (Total Distance)
Landing Distance (Sea Level – Standard Temp.)
Ground Run - 1550 ft.
Over 50 ft. Obstacle - 2350 ft. (Total Distance)
Max. Rate of Climb - 1300 fpm
Click here to return to the beginning of this article.